Beg Me is a laugh out loud read that you shouldn't miss!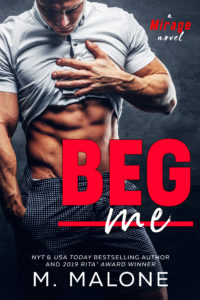 Kindle / Apple Books / Nook / Google / Kobo

Print (B&N) / Print (Amazon)

Read EXCERPT 1 / Read EXCERPT 2
My body is on strike.
Yeah I know, I can't believe it either. Years of perfect performance and now this traitor decides to get picky. And the only woman who gets him going is my co-worker. Rival, she-devil and my competition for the biggest ad account this side of the Atlantic.
If we want to win the hottest wedding designer in the world, we have to prove we understand his business. Love. Passion. Marriage. But it turns out Mya isn't familiar with any of the above.
When I find out she's never taken a trip to O-town, we make a little wager. Not only will I win the client, but I'll prove to her that multiple O's are not a myth.
We work together all day and fight between the sheets all night. But somewhere along the way I discover that winning isn't enough.
BEG ME is a standalone romantic comedy that will make you look at inter-office relations in a whole new way!
---