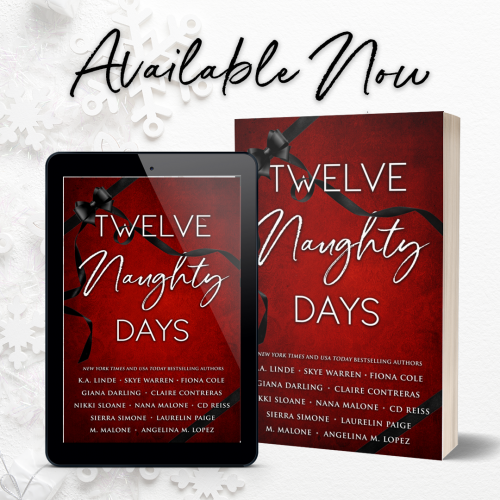 Twelve of the hottest romance authors have teamed up to bring you a delicious holiday treat: a series of never-before-seen short stories inspired by the 12 Days of Christmas.
GIFT ME
(a Mess with Me novella)
The hot, tatted geek across the hall is hard to ignore when he keeps getting my mail.
11 gifts from a secret admirer.
11 chances to prove he's the only present I want under my tree.
Noelle Williams believes in Christmas magic. Everyone in her family has a holiday meet-cute from her grandparents bumping into each other buying potatoes to her parents meeting because of a wayward Christmas card. Even her younger sister met her husband at a holiday party. 
It should be her turn soon, right?
It's hard to keep the faith when love only seems to happen for everyone else but then a series of anonymous gifts start arriving. It's happening! Her Christmas soul mate has appeared. Except it's a little hard to focus on Mr. Gift when she can't stop thinking about the hot, tatted Scrooge across the hall. 
---
Gift Me is a standalone tale loosely related to the Mess with Me series. It is available exclusively in the TWELVE NAUGHTY DAYS anthology.
TWELVE NAUGHTY DAYS includes original works by NYT and USA Today bestselling authors: K.A. Linde, Skye Warren, Fiona Cole, Nana Malone, Claire Contreras, Nikki Sloane, Giana Darling, Sierra Simone, CD Reiss, Laurelin Paige, M. Malone & Angelina M. Lopez.
On sale for a very limited time at just $3.99! All proceeds benefit suicide prevention and will be donated to the Trevor Project.