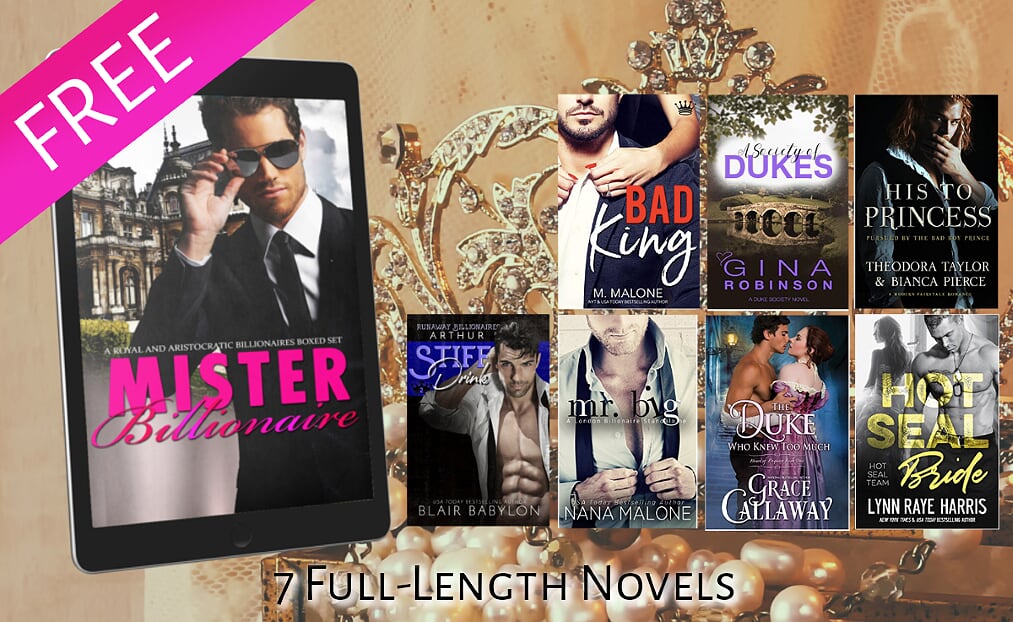 Download





What's better than a Mister Billionaire? The Answer: SEVEN royal and noble Mister Billionaires who'll wink at you with a sultry smile, save you from the bad guys, and rock your world!
Yes, please! Everything in this boxed set is big, tall, ripped, and hot! This romantic suspense and romantic comedy anthology of seven full-length romance novels will draw you in, open your eyes, make your heart pound, and have you fanning your face.
The bad guys are kidnappers, spies, fortune-stealing scoundrels, bride-buying evil-doers, and of course manipulative, over-protective parents and older brothers, but the very, very good guys will rescue you, whisk you away to their noble manor houses, and show you just how good it is to be with the king.
STIFF DRINK by Blair Babylon — Arthur Finch-Hatten, six-feet and four-inches of ripped, loaded, hot English nobleman, is in danger of losing his earldom. The only way for Genevieve to make partner in her law firm is to win Arthur's case, so she poses as his girlfriend to keep an eye on him all day and all night.
BAD KING by M. Malone — My parents just put a gold digger's target on my back. But I can play that game. Who Wants to Marry a Billionaire? Must be completely inappropriate.
A SOCIETY OF DUKES by Gina Robinson — Our plan was simple, and a little scandalous. Me, a 29-year-old American, marrying the noble Duke of Manly on his hundredth birthday. Hint: It wasn't about the money. But Manly died at the altar. With his dying breath, he maneuvered me into marrying his hot, mysterious heir, Ren Sattler, the new duke. And then everything got weird.
HIS TO PRINCESS by Theodora Taylor & Bianca Pierce — Whoa, did I kiss the wrong frog! I thought he was a tortured ex-soldier when we hooked up, but as it turns out, he's a bad boy prince. And now I'm pregnant with his twins. My life is about to become very, very complicated.
HOT SEAL BRIDE by Lynn Raye Harris — Navy SEAL Cash McQuaid has to marry a runaway princess if he wants to save her. It's supposed to be a marriage in name only…but resisting temptation isn't going to be easy.
THE DUKE WHO KNEW TOO MUCH by Grace Callaway — In this steamy enemies-to-lovers romance, a clever spinster joins forces with a tortured rake to clear his name…after she mistakenly accuses him of murder. Passion, humor, and intrigue abound in this national bestseller!
MR. BIG by Nana Malone — As a London billionaire, I play by my own rules. Except for the sacred rule: You don't touch your best friend's sister.
While you're looking for MISTER Billionaires, have you pre-ordered E.L. James's The Mister yet?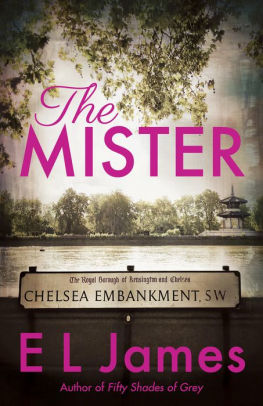 Download





The passionate new romance from E L James, author of the phenomenal #1 bestselling Fifty Shades Trilogy
London, 2019. Life has been easy for Maxim Trevelyan. With his good looks, aristocratic connections, and money, he's never had to work and he's rarely slept alone. But all that changes when tragedy strikes and Maxim inherits his family's noble title, wealth, and estates, and all the responsibility that entails. It's a role he's not prepared for and one that he struggles to face.