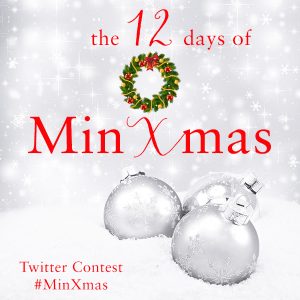 To get into the holiday spirit, my holiday contest the 12 days of #MinXmas starts 12/1! To play, all you have to do is go to Twitter.com and search HERE  for Minx Malone and #minxmas to find that day's clue. My friends are playing along and have agreed to tweet out the clues each day so all you have to do is find them! You don't even have to use Twitter to play for the big prize. Anyone can use the Twitter search function even if they don't have an account.
DAILY PRIZE
RT the day's clue for a chance to win the daily $5 Amazon gift card.
GRAND PRIZE
Each day, enter the clue in the Rafflecopter below for the chance to win a Kindle FIRE and a $100 Amazon gift card. Keep it for yourself or use it as a gift!
RANDOM PRIZE
Do you love surprises? I do and I've decided to share the love this holiday season. Books are my favorite thing EVER and so I thought, what's more awesome than getting a random book gift? (Um – – > NOTHING.)
So if you want to get a surprise book in the mail from me, enter below. I'm going to give away 12 books before the end of the year!