Introducing the Left at the Altar series!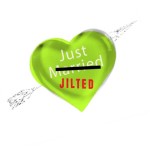 Temporary Groom by J.S. Scott
Almost a Wedding by Ruth Cardello
Husband Material by Raine Miller
Wicked Wedding by Sawyer Bennett
Bad Blood by M. Malone
Second Chances by Melody Anne
Temporary Groom by J.S. Scott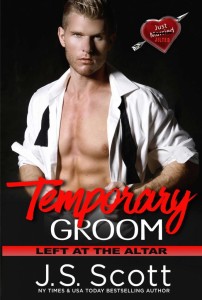 BUY: Kindle/ iBooks  /  Nook  /  Kobo  /  Google
A brand new, standalone spin-off from The Billionaire's Obsession series, and the first novella in the Left At The Altar series!!! You met Lia and Zeke in Billionaire Unloved, Jett and Ruby's book. Now you can find out what happened to them. Did Lia really marry the wrong guy?
Lia:
I thought I had my life all worked out. My wedding had been meticulously planned. All I had to do was walk down the aisle and get married to the man I'd been engaged to for over a year.
Pretty easy and uncomplicated, right?
Unfortunately, all of my well-laid plans go up in smoke when my fiance leaves me at the church alone because he found a woman who was better suited for his snobby world of wealth and privilege.
Problem is, I really have to get married. All of my hopes and dreams are dependent on me tying the knot by my twenty-eighth birthday, and the date is closing in fast.
As usual, my best friend Zeke Conner is there to pick up the pieces when I get jilted by a jerk. He helps me work through the demoralizing event so I can put it behind me and move on. But when he offers to marry me himself, I'm stunned. But it's a bargain I can't really refuse.
As my relationship changes with my best friend, I find myself caught in a web of sensual desire and unending passion that's as terrifying as it is satisfying. Probably because it seems all too real.
But our arrangement was supposed to be temporary. A deal between friends so that we'd both benefit. What will happen when it all ends?
The first book in the Left at the Altar series.
Almost a Wedding by Ruth Cardello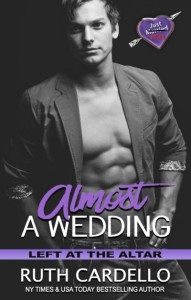 BUY : Kindle /  iBooks  /  Nook  /  Kobo  /  Google
Barrett
When Paul asked me to be his best man, I didn't think we'd make it this far. He's 0 for 3 on engagements, but he says he's serious this time.
The moment I meet Audrey, the maid of honor, I'm conflicted. She's recovering from an injury. She needs my help, but all I want is to help her into my bed. What we have is wild and hot as hell—but that doesn't mean I'm looking for it to continue past this trip. I've worked too hard to get to where I am to let anyone drag me down—but before I know it she's got me turned around, and chasing after what I swore I'd never want—a chance at forever.
Audrey
I'm still recovering from ankle surgery after a severe break, but I'm the maid of honor and I refuse to let pain stop me from being part my best friend's wedding. When I overdo it, I retreat to recover and regroup.
That's how I meet Barrett. He's brooding and blunt, but when he picks me up and carries me as if I'm nothing then brings me ice and takes care of me—I'm ready for my first wedding hookup. He is exactly what I need to get my mojo back.
Being bad never felt this good.
When he tells me he's not ready for a relationship I believe him—after all, his best friend just left mine at the altar. Where do we go from there?
Is it wrong to hope for make up sex considering we weren't the ones who broke up?
Husband Material by Raine Miller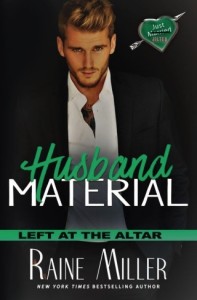 BUY : Kindle /  iBooks  /  Nook  /  Kobo  /  Google
She left me the day before our wedding.
Said I wasn't "husband material."
Actually, I'd have to agree with my ex on that matter.
I'm better off alone.
Everything changed for me the day I met the mysterious beauty dancing and painting on the beach.
We had one magical night together—and then she was gone. A free-spirited angel that flitted away with the dawn.
I searched until I found her.
And now I can't let her go.
*Husband Material is the third book in the LEFT AT THE ALTAR series, in a collaboration of six New York Times Bestselling Authors: J. S. Scott, Ruth Cardello, Raine Miller, Sawyer Bennett, Minx Malone, and Melody Anne.
Wicked Wedding by Sawyer Bennett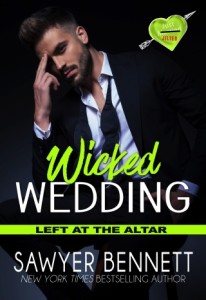 Buy: Kindle  /  iBooks/ B&N | Google Play | Kobo
It all started with a wedding…
Well, three weddings, to be exact. The one that happened, the one that went up in flames, and the one nobody saw coming.
Andrew Collings has seen a lot of things living in Vegas. Hell, he's done a lot of things. But one thing he's never witnessed is a beautiful brunette, hitchhiking her way into the city, wearing a wedding dress. Until now, that is.
Brynne Adams is running away from a broken heart. She expected a lot of things from her wedding day but finding photos of her fiancé and maid of honor and best man in a compromising position wasn't one of them.  She most certainly never imagined that she'd end up marrying the handsome stranger that rescued her from the side of the road that day.
Andrew and Brynne's quick nuptials may have been the result of a drunken joke, but they soon realize that love can be found in the most unlikely of places if you just stop and take a chance.

Bad Blood by M. Malone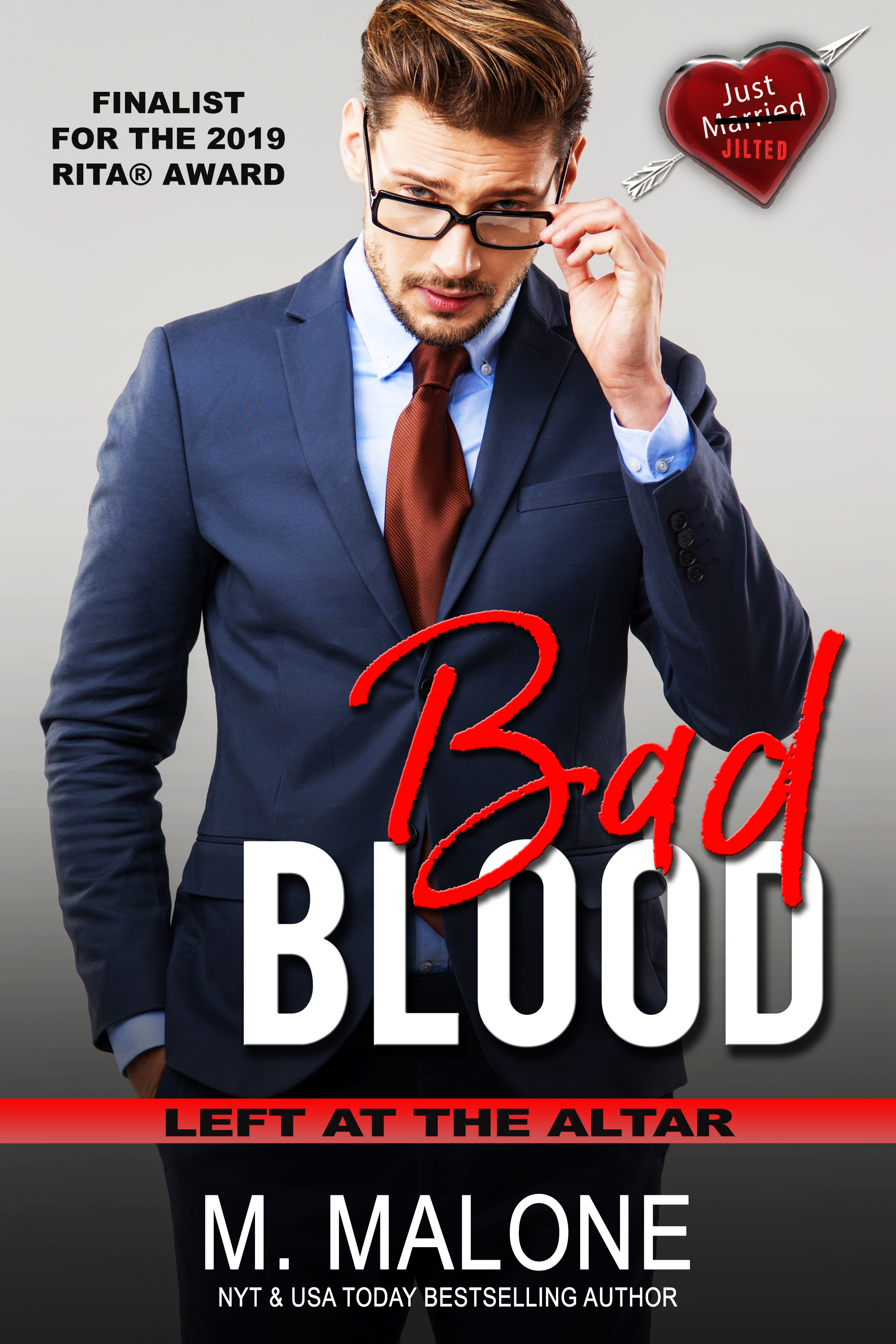 Buy: Kindle / iBooks / Nook / Kobo / Google
Georgina Kingsley is off-limits. It's better this way, really. Her brother is my best friend and business partner, the closest thing I have to family. Plus, she's engaged to another man, one better for her than I could ever be.
But when Georgie is ditched on her wedding day, she needs someone to get her out of town. There's bad blood between us but I'd do anything for her.
Except give her hot, rebound sex to get back at her cheating ex.
Tough choice. Loyalty to my best friend who has been more like a brother? Or to a woman with a history of driving me crazy and making me want things I have no right to ask for?
It's a hell of time to realize I'm in love.
⁃ – BAD BLOOD is a standalone enemies-to-lovers romance. You'll recognize some characters from BAD KING.
Second Chances: Left at the Altar by Melody Anne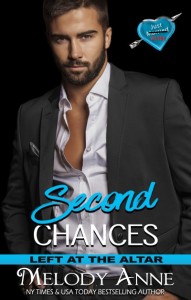 Preorder now: Kindle  /  iBooks  / Nook / Kobo
Anna Thompson has led a . . . boring life. She's ready for adventure and she's determined to have the time of her life. She talks her best friends into going on a cruise with her where she plans on having an amazingly sensual love affair. Then she'll be a good girl and return back home to Seattle where it rains ninety-five percent of the time.
Some people might say Evan Covington works too much. He'd tell those who do that maybe they need more work ethics. He's perfectly content with his life. He's a shark in the boardroom and doesn't lack for nighttime companions. What could be better than that?
Both Anna and Evan are in for a surprise that will have them rushing to the alter . . . where one of them will be left standing. Will it be a vacation fling . . . or will it be a happily ever after? Find out in this whirlwind romance story that travels the world and finds that home truly is where the heart waits.