In Deep – freebie
Deep     /    Deeper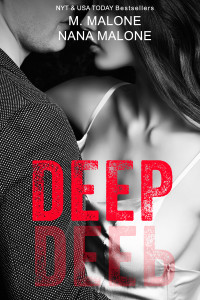 AVAILABLE NOW
Apple Books / Amazon / Amazon UK
Google Play / Nook / Kobo
Kindle AUS / Kindle CA / Kindle DE
Kindle ES / Kindle FR / Kindle IT
She didn't just bring me back to life. She brought me back to living.
You think you know my story, but you have no idea. How could you? I cover my tracks well.
After a hellish past, I've got a good thing going being hired at Blake Security. I'm one of the good guys now…protect and serve and all that jazz. Kicking ass and rescuing damsels in distress – all in a day's work.
Then I discover *this* damsel is not that innocent.
(The Deep Duet unfolds over the course of two books. Deep will be followed by Deeper, releasing on January 29th)
Apple Books
Amazon / Amazon UK
Google Play / Nook / Kobo
I never meant to fall in love with him. That wasn't part of the plan. But now I have. And now I know the truth. And so does he.
He will do anything to protect me, even become the man he buried long ago.
Little does he know I'm just as fierce about protecting what's mine.
FREE